By Admin on Mon 19 February 2018 in NEWS
A truly groundbreaking series of fluid components.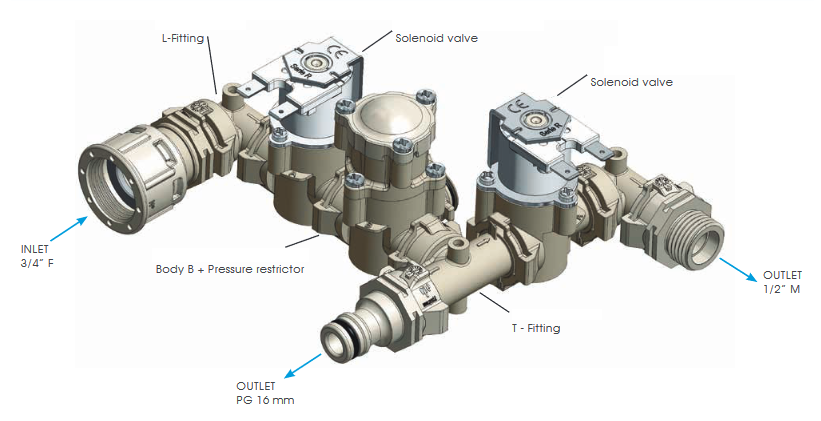 Click here to watch the video.
The R-Universal Series is a modular system for producing custom plumbing assemblies and manifolds, these assemblies can include water filters, pressure regulators, solenoid valves and flow sensors. The R-Universal Series is intended to allow small to medium volumes of special assemblies to be produced quickly for design and production purposes. The use of bayonet fittings with an integral O-ring seal makes assembling the R-Universal Series quick and easy without requiring the use of tools. In a design environment the configuration of a manifold can be quickly changed and for production the use of standard parts means allows manifolds to be quickly produced from stock parts tailored to the requirements of individual customers.

Body Styles

The R-Universal Series is based around three body types A, B and C.

The inlet and outlet water connections to each of these bodies are via robust bayonet joints each with an O-ring seal. The use of a bayonet joint allows the R-Universal series components to be connected to one another without the use of tools. For production use the bayonet incorporates a locking tab that prevents the connection from coming apart. When used in development or training applications the tabs can be removed to allow easy disassembly.

Body A has a simple inline arrangement with a single inlet and a single outlet – flow through this outlet can be filtered, controlled by a solenoid valve, or measured by a flow sensor. When used with a pressure regulator the outlet water pressure can be controlled.

Body B is similar to A but has a second outlet at 90 degrees to the inlet – this outlet can be conditioned by the functional element fitted to the body – valve, filter, sensor or pressure regulator. In body B the inline outlet is uncontrolled and is intended to provide the water supply for the next element in the system or as an uncontrolled outlet for the manifold assembly.

Body style C is identical to B but the controlled outlet branches to the right rather than the left.
Each body can be used to house any of the water control elements that form the RPE R-Series. These include:

o Solenoid valve,
o Pressure reducer,
o Flow sensor,
o Filter,

The various bodies, functional elements and fittings can be combined to produce an almost unlimited range of assemblies. Each with its own components, inlets, outlets and geometry. Each element of the R-Universal Series has a common length of 40mm, this simplifies the planning of the complete assembly.

All the R-Universal series components can be supplied manufactured in material certified for use with potable water.

Fittings

Fittings for the R-Universal series are classed as inlets or outlets

Inlet fittings are available as:

10 and 15mm hose tails
3/4" male and female threaded BSP
10mm John Guest push-fit
1/2" male threaded
8mm John Guest push-fit inlets.

With outlet fittings available as:

10 and 15 mm Hose tails
3/4" male and female BSP threaded
8 and 10 mm John Guest push-fit
1/2" male threaded outlet.


T / L Fitting

The tee and "L" fittings allow the functional elements of the R-Universal series to be flexibly combined together to produce a wide assortment of assemblies for different applications.

The tee fittings are available in two versions: outlet-inlet-outlet and inlet-outlet-inlet.


Blanking Cap

A blanking cap is also available which allows an "empty" body to be incorporated into an assembly either for possible future use or to act as a "spacer" so that the assembly has the required footprint.

Connections fittings

As well as being used with the A, B and C bodies the R-Universal series inlet and outlet fittings can be combined together in pairs to produce special fittings by coupling one style of "inlet" with another style of "outlet".:

When used in this way the label inlet or outlet is irrelevant as flow through these pairs of fittings is bi-directional.

For example:

3/4" female threaded to 10 mm hose tail
3/4" male threaded to 10 mm John Guest push-fit
3/4" female threaded to 8 mm John Guest push-fit

The use of the R-Universal fittings in this way is especially useful in a service or development situation where just 12 different fittings can be used to produce 36 combinations of inlet and outlet.

Composition

Combining R-Universal series inlet and outlet fittings with tee and L fittings makes it possible to produce special custom manifolds easily and quickly without the use of tools.

More than 40 years of experience…

RPE was founded in 1971, by it's current president - Giuliano Ravazzani.

Initially the company produced solenoid operated locks and electro mechanical programmers for the booming Italian washing machine industry. Then they began their great adventure in the world of solenoid valves!

In the early 1980's the factory was equipped with plastic moulding machines and coil winders. This set the pattern for the vast future expansion of their production resources resulting in the company's immense production capability of today.

Since those early times RPE have made a continuous investment, not just in production, but also in design and quality.

Product certification is another area that has seen heavy investment for both food and electrical safety making the RPE brand a quality benchmark in the international market for solenoid valves.


Quality made in Italy

All of RPE's valves & solenoids are designed and manufactured in Italy at their modern factory based in Carbonate, about 30 km from the centre of Milan.

RPE's goal is to always provide to all their customers the best solution, in terms of: performance, durability and innovation.

If you think you may have an application for the RPE R-Universal series and you would like to discuss your requirements please contact Beta Valve by either calling 01494 459511 or email sales@betavalve.com.