By Admin on Tue 06 June 2017 in NEWS
Beta Valve Systems Ltd provides long term security to its employees through employee ownership transition.
Founded in 1983 and headquartered in Desborough Park Road Beta Valve Systems Ltd is now entirely owned by an Employee Ownership Trust (EOT).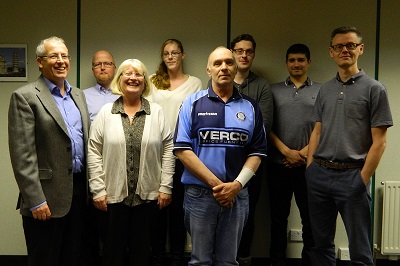 Beta Valve is continuing a trend for UK companies to become co-owned, with independent research suggesting that a combination of shared ownership and employee participation delivers superior business performance. Well-known companies that are employee owned include John Lewis Partnership and Tiptree preserves maker Wilkin ans Sons.
Founder Ian Sparrowhawk, now a trustee-director, said

Deb Oxley, CEO Employee Ownership Association, added:
Beta Valve's advisor Graeme Nuttall, a partner at Fieldfisher and author of the influential Nuttall Review of Employee Ownership said:

UK employee owned companies have a turnover of around 3% of GDP (over £30 billion) pa.
There has been a 10% increase in the number of companies converting to employee ownership.
Employee-owners have higher levels of job satisfaction, feel a greater sense of achievement and job security and are more likely to recommend their workplace than employees in non-employee owned businesses. Employee owned businesses operate in a range of sectors including healthcare, social care, education, transport, manufacturing, retail and professional services.
Taken from- The Employee Ownership Advantage: benefits and consequences, Department for Business, Education and Skills, Cass Business School July 2012
EOA - Employee Ownership Association
The EOA is a not for profit and politically independent organisation that works in close partnership with its members to champion, promote and provide insight into the business case for employee ownership. Members benefit from unique learning , networking and trading opportunities across the network of diverse companies of all sizes and sectors.